Why Science Matters When You're Experiencing Extrusion Defects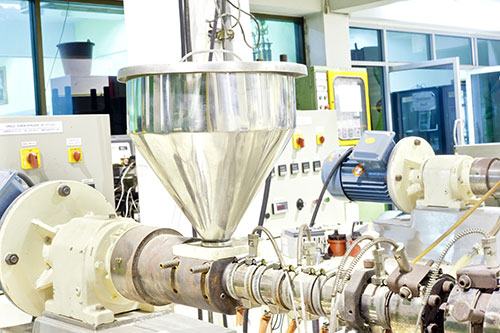 Previously in this space, we have blogged about the "Science Behind Process Manufacturing," in which we talked about the necessary fundamental skills and process understanding that are the foundation for helping our customers troubleshoot their production problems. Today, I would like to share a specific scenario where this idea clearly plays out. Our premise is that in order to be effective at recommending corrections or improvements to our customers' manufacturing platforms, we must first understand the science of what drives their process, based on sound engineering practices (in the disciplines of mechanical, electrical, chemical, software/controls, and structural). The business challenge that I think is a great case study of the need for these fundamental capabilities has to do with aftermarket support of complex production/process systems.
To pick an example, at Optimation we have developed core competencies in several technologies for companies that utilize roll-to-roll manufacturing, or produce their products in a flexible web format. Optimation has capabilities to assist our clients in understanding how to transport, steer, treat, and wind rolls of web based products. In the area of application of value added coatings, we maintain expertise in several coating methods, as well as drying.
Now, let's consider the case where we have been approached by a potential client that is using extrusion to liquefy a value-added material (usually a plastic or other resin based compound) and deliver it to a coating application station, where the liquid is pumped into a die that creates a uniform thin stream of molten material that is applied across the width of the substrate (web material). Immediately downstream of the coating die will be a chill roller to solidify the coated material, and then the web is further conveyed and processed through a dryer to stabilize it.
The extrusion process we are describing is a complex approach to treating the client's web (film, paper, foil) with a layer that adds product functionality (the extruded coatings can provide barrier protection, adhesion, structural enhancements, etc.). The basic elements of the system that delivers a molten resin compound to a moving web include such equipment like plastic pellet storage bins, dryers, and pneumatic conveyors. Next, the prepared resin pellets would be delivered to the actual extruder, which is a machine that utilizes heat and a mechanical screw to convert the resin pellets into a liquid, and to push the liquefied resin to a melt pump, which in turn charges a delivery line with the hot material. The output of the delivery line is the die at the coating station, which creates the thin and wide flow of material to coat onto the moving web.
In the situation where our potential client is having some product or process complications, extrusion defects, or requires a process change or upgrade, understanding how their current system behaves is key to changing the extrusion process conditions to affect the needed product outcome. Our example manufacturer will likely find that if he reaches out to one of the OEM providers of the machinery that he is using in his extrusion system (say, the die, or the extruder) he is likely to find that these companies do not often provide support that can troubleshoot the entire process, only their specific piece. This means that it is incumbent on the client to determine which part of his extrusion system is in fact the culprit for the extrusion defect, or what needs the requisite upgrade.
Our example manufacturing company will want to work with a firm that has the capability to holistically understand what is happening in the entire extrusion process, and how the various parts interact to accomplish the successful application of his coating. This understanding will be developed through the application of the germane science (fluid dynamics, and heat transfer principally). Use of up to date tools and methods in these disciplines will deliver analytical results and predictions that then lead to process and equipment changes with known (and required) influences on the process and product. This is why at Optimation we have on staff technical experts who are versed in these sciences, and are experienced with the use of such tools and computer based FEA analysis.
{{cta('b3a209e7-da07-42c9-9875-31b08ad201d1')}}