The Science behind Process Manufacturing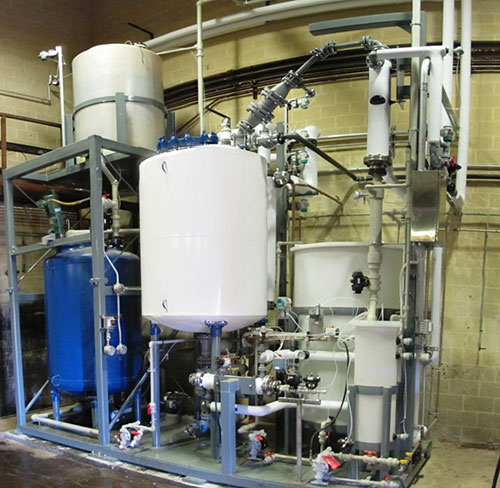 When process manufacturing companies are faced with having to solve their varied production problems and challenges, they may find that, due to resource constraints within their own organizations, hiring in some outside help is required. Manufacturers in these situations frequently have qualification steps to go through to ensure that the potential supplier is able to provide the level of service necessary to solve the problem at hand. This is equally true whether the company in need requires replacement of a failed part, regulatory guidance for a new chemical to be introduced, or installation of a new piece of process equipment.
The varied disciplines within a process manufacturing company that may be serviced by contractors is broad and varied. Businesses that look to suppliers for assistance should be able to understand and verify the skills and capabilities of their suppliers, on a project by project basis, to ensure a successful outcome.
We talk about being solution providers to the manufacturing segment, particularly towards the companies that specialize in processing. We maintain a staff of technical people to help with such production systems as paper, film, and foil handling, coating, and drying. We also have chemical engineers that design batch processes (including such disciplines as engineered reactions, solution addition, mixing, and heat management) and delivery systems (which are principally concerned with controlled pumping, filtering, and heat management). Many of Optimation's highly skilled staffers have grown up in a variety of manufacturing roles within process based companies prior to joining our team. This hands-on experience in process systems, as it applies to the day-to-day manufacturing of products, has proven invaluable to our clients as we are invited to team up with them to engage in their improvement opportunities.
When our customers reach out to us for assistance, for whatever their internal reasons are, they expect to have us as their contractor to offer a new perspective, or as we say in the business, a second set of eyes, on their problem. They will want to know something about how we will attack their problem, and pursue a solution for them. This will be based partly on our own people's prior experience, and the corporate toolset we can bring to bear. Early on, we demonstrate to our clients that we first and foremost bring to bear the applicable science to solve their specific situation. Before we talk about equipment, or controls, we will want to be sure the process conditions are understood and documented. This process "background check" will involve such disciplines as chemistry (modeling the chemical reaction at hand to account for all constituents), mechanics (stress analysis and FEA), heat transfer (a heat balance is performed, FEA can be utilized here as well), and fluid dynamics (understanding flows and pressures). We employ annotation methods like Process Flow Diagrams, Process and Instrumentation Diagrams, User Requirements, and a variety of calculations, to properly record what is happening (or what the client would like to have happen) in their manufacturing process.
Our solution is driven by this science. We have learned that it is imperative that the laws of nature which govern our customer's manufacturing operation are understood and defined first before any hardware or software are applied. We want to know these fundamental process specifications so that the equipment that is then brought to bear is properly selected and designed into our solution. Knowing the science behind the need (the mechanical, thermal, electrical, and fluid flow requirements) allows us to be the most effective, and the least risk prone, when we then design our recommended hardware and controls systems to offer to the client as the answer to their challenge. And, viewed from our customer's point of view, this approach helps build trust that we are not simply pushing a machine or industrial controls platform, but rather are recommending an integrated set of specifically selected devices and controls driven by the process science all aimed at a robust fix to a well-defined problem.