The March Madness Effect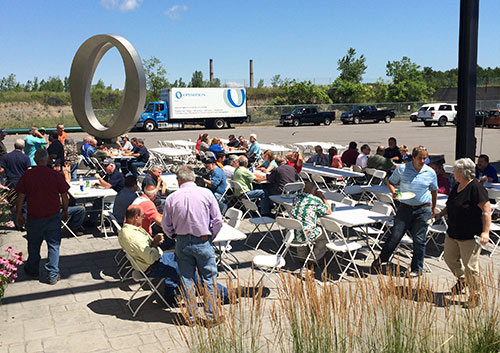 March Madness, an opportunity for some great team bonding! There's nothing like sports to bring people together. Whether it is football, baseball, NASCAR, college basketball, the Olympics, or supporting your favorite local team, all of these are great opportunities to bond with others at work. It may be a Super Bowl or World Series pool, Fantasy Football, or your March Madness Bracket, whatever the sport it brings people together, (or puts them at friendly odds with one another).
I'm writing this at the lunch table with six to eight of my coworkers around me as we are watching the first match-ups in the March Madness tournament. One of my co-workers took up a collection and ordered pizza for us to enjoy while we watched some basketball on our lunch break. I do not usually follow college basketball during the season, but I do enjoy this time of the year and watching the games and the reactions of my coworkers to the results. The trash talking began last week when the brackets came out, and it won't stop until the champion is crowned (based more on the winner of the bracket than the team that wins the tournament!). Whether they are truly passionate about the school that they attended, or their favorite team, or just their competitiveness to have their bracket win, it puts an energy in people that is fun to watch and interact with. It never fails, there is always the person that knows nothing about basketball and picks their bracket based on the school colors, mascot, or they just like the name. This is the person that often wins and it drives the diehard fans crazy.
Too often we don't take the time to socialize with the people we work with, but we can actually improve our working relationships by getting to know our coworkers socially. There is nothing more fun than the buildup to a big game between rival teams. The pre-game banter in the office lightens the mood and can even encourage people who wouldn't normally have a reason to interact to bond on a common (or rival) ground. Don't get me wrong – it can't be all fun and games. This is a place of work, but taking a break to watch a bit of a game or discuss a previous matchup brings people together. The next time they are on a project team together, they at least know something about each other and have a conversation starter and some rapport.
There are many other bonding activities that can help with team building as well. Some of the things we have done in the past are: baseball games, soccer games, the JP Morgan Chase Corporate Challenge, company picnics, Christmas or holiday parties, breakfast at Maple Tree Inn during maple sugar season, curling, golf tournaments, group yoga, happy hours, and even an employee-run car show and grill day. These non-work events provide an opportunity to get to know your coworkers socially and help to create friendships in addition to the technical respect we have for one another.
We are very fortunate at Optimation to have a group of talented employees that genuinely like to spend time with one another. It makes the day (or the project) go faster and usually the collaboration produces the best results. Some may say "I don't have time," or "I'm too busy." My response is "make the time." I really encourage you to participate in these activities. You will be fulfilled by them. Yes I'm always the one that squeezes 10 pounds in the 5 pound bag, and I truly believe that is what keeps me going. I work hard and play hard, and I live life to the fullest. Each adventure I go on brings me back to work refreshed and ready to take on the next challenge.
Good luck with your March Madness bracket. May your favorite team (or color) win!