Staying on Top of Trends and Making Changes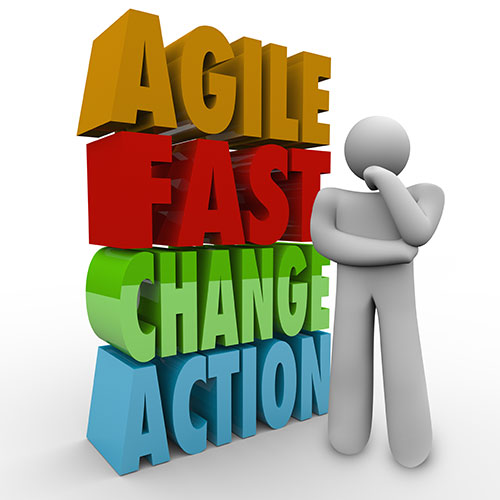 First off let me acknowledge that I am not nor have I ever been a member of the economist class. I did not buy Apple at $8 per share, or Theranos at $4. So I make no claims to know what will happen next in our complex world of commerce.
However, news that Intel is likely to lay off approximately 11% of its workforce caught me by surprise. But economists and tech trend-watchers say I should not have been; even people like me should have seen this coming. Apparently, some giants such as Intel and even Microsoft have been caught flat-footed, so to speak regarding the incredible run-up that is mobile and portable computing. The replacement of desktop and laptop computing by other platforms now referred to unromantically as "devices" has been relatively rapid and vicious. You don't see a lot of Windows phones or Intel-powered tablets. Rather, it appears the classic "Wintel" domain chose to stay with what they knew rather than risk or otherwise commit themselves to the new wave.
I currently live in Rochester, NY, famous in some circles for being the modern home of photography in the form of Kodak which famously seems to have missed the digital wave and is now a shadow of its former self. So I am familiar with the sound of the future coming home to roost. To hear it told, Kodak was reluctant to leverage its Intellectual Property in digital imaging when it was truly novel and exciting, but also threatening to the status quo that was film. The "Golden Goose." So many factors and so many variables I am guessing it is unfair to lay the responsibility on any one or two causes of the trajectory downward that tuned the giant into something else. Let's leave that to the business school guys and the economists (see above).
But in the context of the Wintel description above, and prodded by some discussions I heard from some media outlets last night, the un-willingness of some firms to re-imagine themselves and challenge their own assumptions, places in the pecking order, and consider turning the tables on themselves is a classic, repeated, and sometimes near-fatal flaw in thinking. Kodak seemed to want to believe that film was forever—it was even part of the marketing plan, image preservation and "image permanence" pitches.
On the contrary, one commentator last night referred to Apple's willingness to "cannibalize" its core business foundations in pursuit of a vision of something different that was lurching in the darkness of the uncertain future. Betting big on portable music and other trends, imagined differently from others' embodiments, the iPod and then the iPhone (among other game-changing shifts) now look like obvious moves that at the time of their decision-making were huge gambles at Apple. But those and others paid off HUGE of course, and while it remains to be seen if that culture, track record, and willingness to commit will continue, it is so compelling and dramatic that I want to look at Optimation's own strategy and place in the market, and that of our partners and clients.
Whereas we were once an upstart we are now a 30+ year old technology company, responding to and working to anticipate trends and needs of technology and of our clients. If we are nimble, and our relationships strong, and our technology choices wise, then we should be well-positioned to tackle the next 30+ years. We test that thinking, and we are drawn to clients who pose interesting challenges, who have been with us over the years, and/or reach out to us to solve their most vexing business and technical problems.
Today we are engaged in projects that will increase production yields, and deliver innovative and cost-effective solutions to challenges that were previously not confronted or weren't foreseen. We are willing to consider alternatives that haven't before been drafted, and share that thinking and this willingness to challenge the conventional wisdom.
These approaches can yield vastly different results, and with the proper planning and collaboration produce some dramatically positive outcomes. This agile thinking, coupled with nimble performance in the execution of our work, make us an interesting partner for complex integration, or for dealing with new and uncommon situations.
So be mindful of the status quo, and consider the approaches you might take to addressing your prospective future. Whether you operate a chemical plant, a manufacturing firm, or a service company at least consider your options broadly and engage partners who can help you think outside the proverbial box, and don't get left clinging to your Osborne PC when everyone else is "devicing." I hoped to again get the chance to recognize the next Apple at $8 myself before everyone else does