Rochester Engineers Making a Difference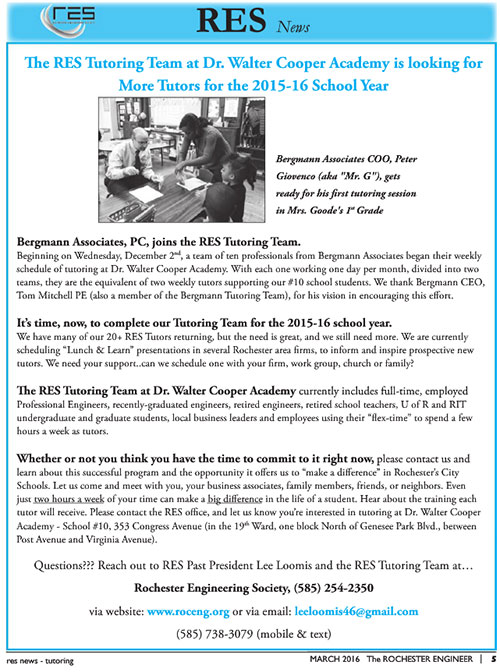 On the heels of the 65th Engineers Week, I would like to highlight the accomplishments of the Rochester Engineering Society (and specifically RES Board Member Lee Loomis) in launching a tutoring program with our city schools. Serving on the board for a number of years, most recently as treasurer, I have been involved with this program as it has come off the ground. I think it is a fine example of how engineers are making a difference in our local communities.
Back in June of 2013 an article appeared in the local newspaper.
"Rochester's high school graduation rate dropped slightly under tougher state standards. The New York State Education Department said the Rochester graduation rate dropped from 45.5% to 43.4% from 2011 to 2012. "These results are painful and unacceptable for me and should be to everyone associated with the district, our families (and) our community," said Bolgen Vargas, Superintendent of Schools."
Moved by this article, Lee Loomis became acquainted with a group named the Friends of Educational Excellence (FREE), which had been in operation for five years using a very structured model. They worked with a group of ten RCSD schools to put teams of tutors into direct contact with students in Grades 1 – 6, specifically identified by their teachers, as struggling to reach acceptable levels of academic performance. Lee spent several months in one-on-one tutoring with first graders needing a little extra help.
Since that time, the RES sponsored a program to introduce our network of engineers to this program. In a couple of short years, it has grown to over 20 tutors. The RES Tutoring Team at Dr. Walter Cooper Academy School #10 currently includes full-time, employed Professional Engineers, recently-graduated engineers, retired engineers, retired school teachers, U of R and RIT undergraduate and graduate students, local business leaders and employees using their "flex-time" to spend a few hours a week as tutors. One company, Bergmann Associates, PC, has a team of ten weekly tutors participating as a group so as to make it work for their schedules.
Please feel free to contact Lee to learn more about this successful program. If you are part of the Rochester community he would be glad to meet with you, your business associates, family members, friends, or neighbors about how to become part of the program. If outside of the area, he would welcome your comments or ideas. Please visit the RES at www.roceng.org or directly email Lee Loomis at leeloomis46@gmail.com.