Postcard From the (Leading) Edge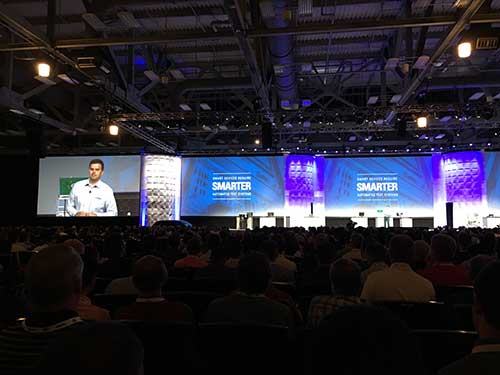 I'm fortunate to again be attending NIWeek, the annual business and technology conference run by National Instruments (NI) in Austin, Texas. It's a scene of thousands of engineers, scientists, and businesspeople converging to look at the latest and greatest technologies, applications, and success stories while also having the opportunity to learn new techniques and advance our prowess.
It's always a big show; from all around the world, NI employees, alliance partners such as Optimation, and end-users converge on this unique city for several days. NI is a company now celebrating its 40th year in business, having grown from a small garage operation into a $1.2B publicly-traded electronics and software leader.
As you might imagine, the usual topics are covered such as the Industrial Internet of Things (IIOT), 5G and wireless communications technology, and Big Data. Blue-chip industry names are well in attendance such as Intel and Audi, H-P and Saab, and so on. Side-by-side are small start-up firms, consultants, and the small to medium businesses that make up so much of the world's innovation.
The theme this year is focused on Acceleration. Specifically, advancing and speeding up the processes of Productivity – Innovation – Discovery. Autonomous vehicles, or self-driving cars, are getting their fair share of attention, if not more so. The explosive growth of wireless devices and enabling communications in ways and in volumes not previously conceived are front and center.
New product announcements, especially the latest version of LabVIEW (2016), a high-profile Vector Signal Transceiver and other electronic innovations are on display. Dramatic steps forward in semiconductor, automotive, and other test systems are making headlines here. The atmosphere is festive, positive, and proud.
There is much to be excited about: sales are up, innovation is rampant, and the future looks bright. It doesn't hurt that the temperature is cresting over 100, but that just fosters more camaraderie, and sharing of war-stories mixed with nostalgia. It's a great atmosphere in a great town, and we at Optimation are looking forward to more mutual success with NI, both for each other as well as for our clients as we implement novel technologies into clever and innovative solutions.
It truly feels like the sky is the limit. We believe we have the tools to reach for it–and maybe beyond. Next year NI week won't be in the heat of August, as it is moving to May where it will be interesting to see how that might affect the attitudes and the crowds. We may not hit 100° but I know it's going to be HOT.