Meet Matt Rhode, Our New Business Development Engineer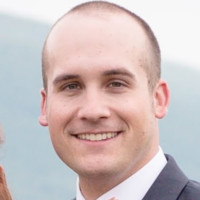 My passion for all things mechanical and engineering go back to my early childhood. Whether it was trying to sell my mom on the idea that modifying a borrowed moped to go just a few MPH faster really was a good idea, or, convincing my brother to convert his skateboard into a street luge; I've been tinkering with things, and getting buy from others, from the start. The reason? Growing up with two competitive brothers who both have a similarly strong mechanical interest. It was a boiler room of ideas, where the best ideas, or the most persuasive brother, won out.
Admittedly, my early ideas weren't always the best – like strapping a model rocket engine to my pinewood derby car and firing it down my residential street, where it quickly ended up on fire in the neighbor's bushes – but it was that passion that eventually led me to earn my Mechanical Engineering degree at the University at Buffalo. College transformed me from a kid tinkering in the backyard into an Engineer.
After graduating college, I took a position as a rotational engineering trainee with a pressure and flow control equipment manufacturer in oil and gas. Over the two-year period I rotated through multiple departments such as Quality, Sourcing, and Manufacturing. It was my first chance to apply my education while demanding that I quickly adapt to each new role. Changing roles typically meant moving to a new manufacturing plant, a new state, a new product, and a new team of coworkers. Each change was a new, trial by fire, learning experience. The rotational training program gave me a true understanding of how varied even a single discipline of engineering can be. Changing roles every six months allowed me to figure out what I liked, what I didn't like, what I was good at, and what I needed to improve on. It also allowed me to refine my technical and interpersonal skills – a must for learning new things quickly.
Upon finishing the trainee program, I became a sales engineer within the offshore drilling division. It was my first experience interacting with external customers every day, and I was fortunate enough to learn from a senior level account manager. We both sat in-house at our customer's office co-tackling whatever was on our plate. Proposal development, technical support, field service, logistics, account planning, regulatory compliance, and more – it all channeled through us. I had initially thought entering sales, and mentoring under a non-engineer, would start to push me away from engineering, but it didn't. It further diversified my interests and allowed me to learn additional skills.
After five years in the oil and gas industry I relocated eight times and lived in six different states on all three U.S. coasts, but due to the boom-bust nature of oil and gas, I ultimately decided to leave the industry. I found myself working in the compressed air industry, continuing in a similar sales role. The big change was switching from managing just one customer to developing multiple. The air compressor market led me to consulting with customers from multiple industries like general manufacturing, food & beverage, air separation, pharmaceutical, or metal refining. The diversity of customers required me to hone my skills on quickly identifying the customers' problem and developing the right proposal to address it. Unfortunately, the pandemic brought an early end to my career in the compressor business. I had gotten caught up in part of a layoff directly related to the COVID-19 outbreak.
Luckily, I was able to quickly find a home at Optimation. Optimation's strong reputation, diverse industry experience, and willingness to tackle the unknown drew me in. The people sealed the deal. Within my first few days on the job, I knew I made the right choice. As I continue on-boarding with Optimation, I look forward to building new relationships with new customers; besides being my job, it's what I love doing. If you ever find yourself with a unique problem that doesn't have an off the shelf solution, give me a call at 585-313-9768 or email me at matt.rhode@optimation.com.
{{cta('81d8e030-97be-4420-ab03-a44363808a26′)}}