Concept to Completion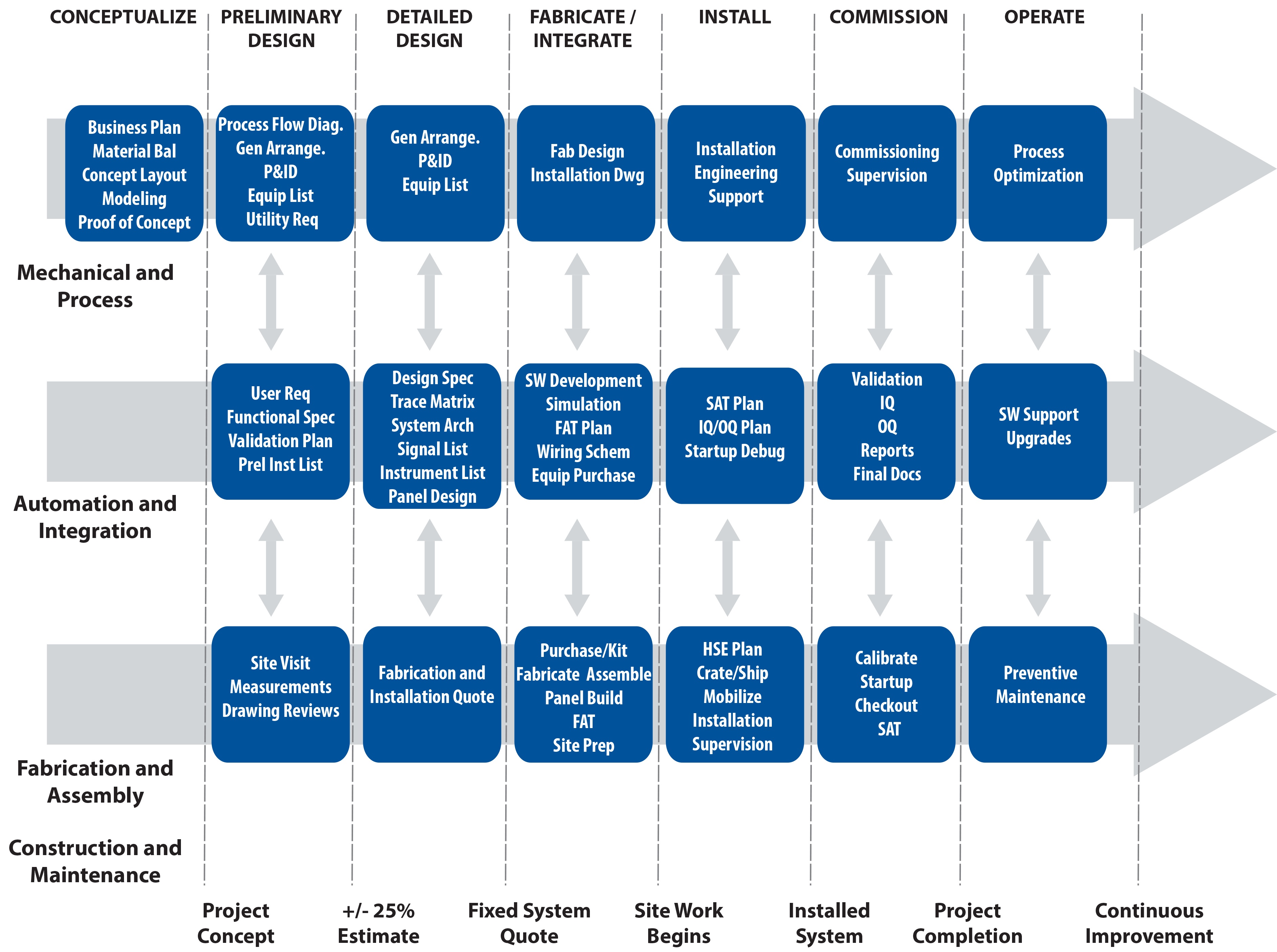 We like to provide clients with a turnkey solution, and often use the phrase From Concept to Completion. (Some people say cradle to grave, but I think this is much friendlier!) Defining project requirements is the "concept" portion of the project and having a working solution with a delighted customer is "completion." How do we get from one to the other?
In order to conceptualize, you need requirements (I talked about those last week). We can help our customers develop requirements if they are having trouble articulating them on their own or we can work from what they have.
Then we move to "Preliminary Design." This is the official beginning of the engineering efforts and helps to further define those requirements including process flow diagrams, concept layouts, general arrangement drawings, P&IDs, some type of process flow, utility requirements, and more.
The next step is "Detailed Design" where things start really taking shape. The General Arrangements, P&IDs and equipment lists are finalized. There are design reviews with the customer to get approval and sign-off to move onto "Fabrication and Integration." This is when things start taking physical shape.
We are fortunate to have an amazing Fabrication and Assembly team and facility. They turn the engineers' designs into reality. Because we are all one family we work together seamlessly. Our Engineers, Designers, and Project/Construction Managers and trades work through procuring materials and equipment, fabricating, assembling, building panels, doing simulations, testing and site preparations. Our skilled tradesmen are also able to suggest design improvements as they fabricate, based on their hands on experience.
This takes us up to the point of "Install." Our team works together to make sure that all of the pieces of the puzzle come together. We can handle everything from crating and shipping, to coordinating material and equipment from our suppliers to the job site. We mobilize our installation crews along with our technical oversight and work through the startup and debug of equipment through the site acceptance testing.
Once the equipment is installed as designed and works according to the specifications and requirements, the "Commissioning" begins. This covers things like validation, calibration, reporting, documenting, certifying, and customer acceptance. One would think this is the end, but it merely opens the door to the future. Now it is time for our customer "Operate" the system. Often, our journeymen and engineers are brought in for regular or preventive maintenance and troubleshooting long after the initial project is complete. Once the system is running and being maintained it opens the door for continuous improvement, and thus starts the life cycle all over again.
The diagram above depicts how we think of Concept to Completion as it applies to projects. How do you think about projects?