Apprenticeships – The Future of Trades in America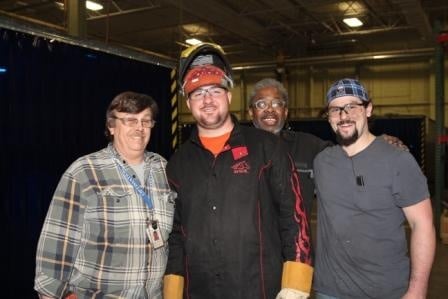 Apprenticeship in the United States has a long history. Records of apprentices working for masters in a trade go back as early as 1640. During that period of time it was common for the apprentice to live with the master and to be indentured to them for a long apprenticeship period. Room and board were provided but little if any wages. Today apprentices are a contributing part of the workforce while they train on the job and in the classroom. They are paid, get benefits and work a regular schedule. At the end of their apprenticeship they receive certificates that are the equivalent of a college diploma for a tradesman.
In the United States today there are nearly one-half million registered apprentices in training in industry. They are learning under the guidance of experienced craft workers in such skilled occupations as computer operator, machinist, bricklayer, dental laboratory technician, electrician, welder, pipe fitter, and many other trades. Corporations, labor, and government work together to promote apprenticeships. Certifications are provided in many states and from the federal government as well. These registration programs go back at least 75 years. Registered Apprenticeships are active in traditional industries such as construction and manufacturing. There are needs for far more apprentices than are presently enrolled in these programs. Many young millennials are so focused on getting into and through college that they overlook the value and opportunities created by apprenticeships.
One of the major advantages of an apprenticeship over college is that it's an immediate job. Apprentices start working on the first day with wage increases as they become more proficient at their trade. Apprenticeships range from one to six years, but the majority are four years in length. At the end of their training, participants receive a credential that certifies occupational proficiency and can provide a pathway to a well-paid career.
We need to find ways to encourage more individuals to join apprenticeship programs. In most cases a young person will join a program only if they have a role model to follow. If they have a parent, aunt or uncle, or other role model who is in the trades they can see the value and will follow in their footsteps. It is hard to recruit youth from homes who have never experienced these professions, especially women.
In New York State there are over 100 programs certified by the NYS Department of Labor. Many of these are operated by trade unions. Some are run by individual companies. All of them follow the same set of certifying standards and the individuals who complete any of these programs receive the same credentials.
At Optimation Technology we have been hiring and training apprentices for nearly ten years. We have programs for electricians, pipefitters, welders, willwrights and sheet metal fabricators. Classes typically begin every fall. We are presently recruiting and hiring to fill the fall class of apprentices. If you know someone who is a hard worker and interested in a career in a trade, now is a great to have them apply for one of these openings. They will be employed immediately and in four or five years will be part of an in demand profession.