A New Organic Peanut Butter Plant – Once Again
---
I attended a ribbon cutting on June 2 at Once Again Nut Butter. They dedicated their new organic peanut butter plant in Nunda, NY. It was a celebration of success in small town America and it represents part of the turnaround in manufacturing in the USA that all of us strive for.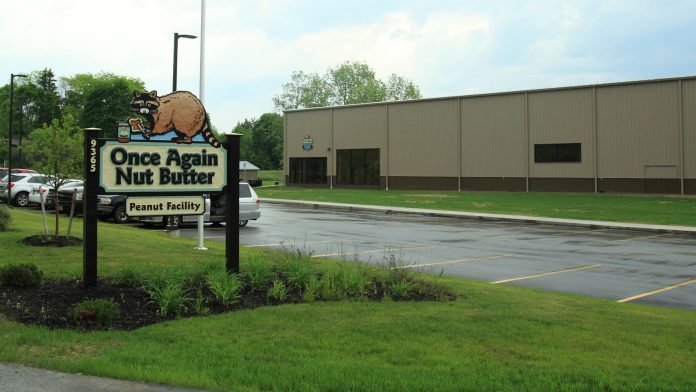 The American Dream
Once Again is proof that imagination, hard work and persistence can still build the American dream. I remember eating Once Again Peanut Butter back in the late 70s. I was part of a co-op in Rochester, NY and we bought organic peanut butter in five gallon buckets, stirred it to mix in the oil and then divided it up among a dozen families. Once Again was founded a couple years earlier. The founders came up with the idea, purchased a small used coffee roaster and tried to roast and grind bulk nuts. Production began in their basement. They got discarded bulk pails from a local bakery to pack their nut butter.
The company has grown and expanded since then. They no longer just make peanut butter. They also make almond, cashew, sunflower, and tahini. Part of the reason to build the new plant was to expand their capability to make peanut butter. The other benefit it that they can now separate the peanut processing totally and completely from their other products allowing those products to be labeled as peanut free. The new plant can process forty million pounds of peanuts a year.
US Manufacturing
There is no logical reason why organic nuts should be processed, packaged and distribute from a plant in Nunda, NY. This could be done anywhere in the world. Once Again partners with farmers in South America to grow the nuts and imports them. And the number of farmers they support is not insignificant. For their supply of the sesame alone they partner with over 2,000 farmers in Nicaragua. Once Again Nut Butter is also one of the world's largest organic almond butter producers using 15 percent of the world's organically grown almonds.
Government regulations made it difficult to expand their food processing facility. It took years of effort to get permits and funding. The new plant is where it is because of motivated and driven owners and entrepreneurs. Manufacturing in the USA is not over and here is proof. If an employee-owned company located in a small rural community in Upstate New York has a new, state-of-the-art, $13 million 37,000 square feet manufacturing plant because of their know how and determination. Other entrepreneurs in other small towns and cities across the nation can do the same.
Proud Team
At Optimation we are proud to have had a part in this success story in the food industry. Once Again Nut Butter engaged our engineers to design the processing lines and our trades group to fabricate equipment and install the mechanical and electrical portions of the plant. Our team, leveraging our expertise in safety and process design and implementation, has very much enjoyed helping this client meet their important goals.