What are your plans for  Manufacturing Lobby Day?
It's that time of year again.  The New York State budget is in the planning stages and efforts to have parts of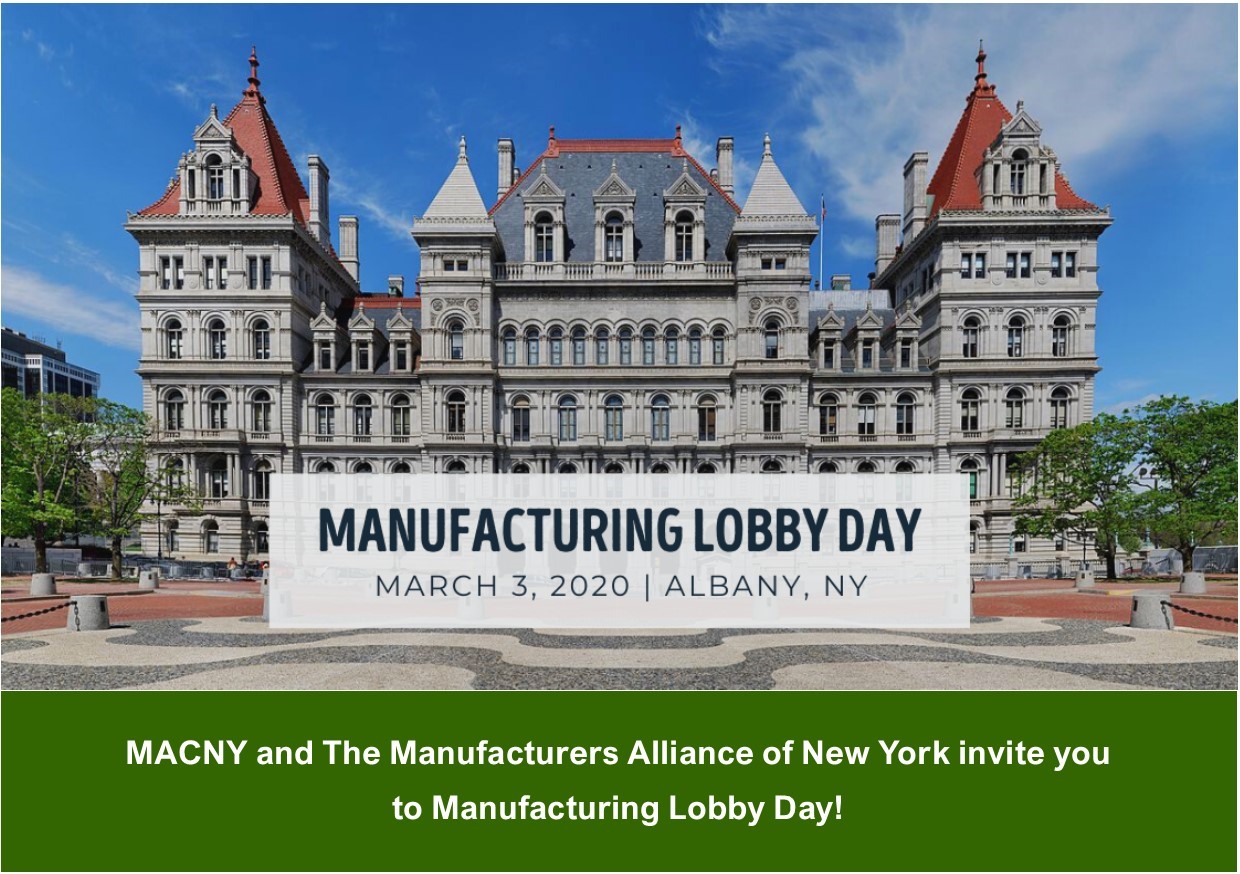 it be pro-business or pro-manufacturing need to be made now.  March 3, 2020 is Manufacturing Lobby Day.  Those who have an interest and can find the time will go to Albany to meet with their legislators.  Local trade and manufacturing associations participating in the March 3 lobby include the Rochester Technical and Manufacturing Association (RTMA), The Manufacturing Alliance of New York and the Manufacturers Association of Central New York (MACNY).  These groups and others will be going to Albany on March 3, 2020 to advocate and lobby for reforms that can improve the business and manufacturing environment.  It is important for our state legislators to hear from their constituents.
If you have questions, or would like to participate, please call Kevin Kelley at the RTMA at 585-292-3761.
Those who can't got to Albany for Manufacturing Lobby Day can participate by calling, mailing or emailing their legislators.
Business, especially manufacturing business, in New York is lagging behind much of the nation.  Over the past decades there has been a steady exodus of businesses and people leaving New York in search of better jobs and a better business climate.  A combination of factors led to these declines.  These include high taxes, high energy costs and extensive regulations.  Those of use living in New York, particularly in upstate New York, need to have a continued focus on working with the government in Albany to reverse this trend and work to make New York a attractive place for manufacturing companies to do business.  While manufacturing growth has lagged in New York as a whole, the impact on upstate has been far more adverse than in the downstate, New York City area.  One statistic, published by the Business Council of New York, shows that private sector job growth in upstate since the 2008 recession has been at a rate of about one-seventh of that enjoyed in New York City (3.4% versus 24.4%).
There are several associations and advocacy groups that develop pro-business and pro-manufacturing policy to present to the state legislators.  The Business Council of New York State, Inc. is New York's largest statewide employer association, representing 2,200 private sector employers across New York.  Their mission is to address legislation impacting major business climate and business regulatory issues including economic development programs, taxation, workforce development issues with a significant potential impact.  Unshackle Upstate is a non-partisan, pro-taxpayer, pro-economic growth and pro-Upstate education and advocacy coalition made up of business and trade organizations from across Upstate New York.  Their mission is to shine a spotlight on state laws, regulations and governmental practices that are holding back our economy, and then create solutions that will lead to jobs and revitalize our state.