Use a blended team for engineering and trades services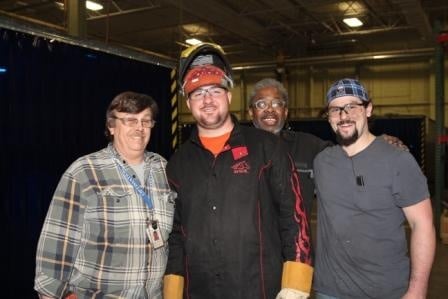 Creating a blended team to provide engineering services is a best practice of bringing on and integrating new people into an organization.
Our company has many seasoned engineers who have built longstanding successful relationships with our clients. While having depth in experience is important, we know they will not be working forever. We see the need to build our bench strength to protect business for the future. To do this, we need to bring in young engineers, but those younger engineers do not have the same level of experience as their veteran colleagues. Finding the right opportunities that allow them to gain experience can be a challenge. Many customers do not want to bring on a younger, inexperienced engineer on their project or project team, especially when there are more experienced resources available. It's a bit of a catch-22, but in the end it can be a win-win!
Younger engineers and apprentices often have recently completed their education or training and may be better versed in new technologies or methodologies in the industry. They are usually taught or trained on the latest and greatest tools and can bring a different perspective or a new approach to the project. All while gaining experience and knowledge to better serve you in the future. Another benefit can also be a lower cost solution. One might think that having two resources on the project would cost more, but the young engineer or apprentice usually has a lower rate than a senior engineer or journeyman. By dividing the work and blending the rate, the cost to the customer may actually be lower. An added benefit is that now there is more than one person who is familiar with the customer's process for the future.
This isn't to say that you should replace all senior engineers with younger ones. Use a blended team to provide coverage over a longer period of time. The seasoned engineer can pass on her experiences to the younger engineer so that more people understand your process and facility. It extends the longevity of your company.
If the younger engineer is working in tandem with a senior engineer, rookie mistakes can be learning experiences instead of catastrophic failures. A younger engineer can do the work and the senior engineer is there to oversee and ensure it is done correctly, maybe saving them from a mistake that he once made and learned from early on in his career.
We've had great success using a blended team of newer and veteran resources on multiple projects for a client in the oil and gas industry, building high pressure test systems. We saw this as a great opportunity to build a team to accomplish what we were hoping would be repeat work over a long period of time. We wanted to maximize the number of people that we exposed to this work. We were able to take our senior engineers and tradespeople, and bring in our younger engineers and apprentices to work on the project alongside them. It's been a tremendous success. The young engineers were able to learn the skills to run jobs of their own. The apprentices who did this work were in high demand for the skills they learned while on this job. The client benefitted from the blended rate for both engineering and skilled trades. The team members all benefitted from the creativity and energy of the younger team members, while they younger team members got to learn from and observe some of the best in the business for project management and construction management, as well as technical skills.
This experience is the goal behind our apprentice program and how we look to train our new engineers and engineering co-ops.
Traditionally, many companies, including Optimation, have used the sink or swim approach, throwing the young engineer on a new project. Depending on the project and engineer, this could be a great success, or a huge failure. We have learned that investing up front in hiring and training younger talent, and matching up the right project, is a tremendous learning experience for everyone involved – and has a much higher rate of success!