The cyclic nature of system integration
As I read the AutomationWorld post "Will System Integrators Become Services Integrators?" by my CSIA colleague, Luigi De Bernardini, CEO at Autoware, I couldn't help but reflect on the cyclic nature of technology evolution. Having been involved in software development and systems integration since 1980, here was the diagram that popped into my head: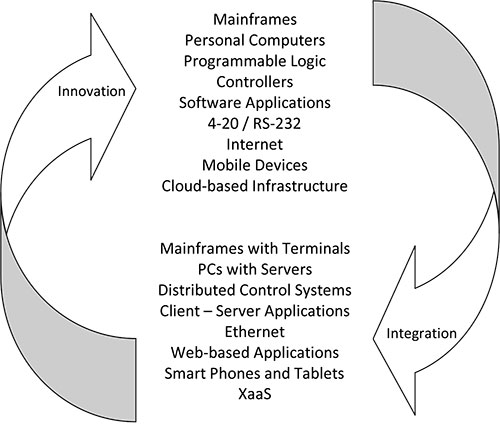 We can debate on the order and labels, but we see a pattern of technology adoption and integration that cycles continuously and feeds on itself.
Luigi discussed two factors impacting our industry – (1) technology as a "service" rather
than ownership and (2) success continuing to be based on specific, competitive differentiators in a manufacturing process. He concludes that for the short term, "solutions as a service" will be applied to repetitive, well-defined problems, and these in turn can be used for building blocks for future more complex solutions.
Which means that systems integrators will continue to have a role in the cycle – assisting in technology selection and implementation, helping our clients and partners evolve.
So this means that we have to continue to keep up with technology changes – through professional development and hiring – and to have a vision for what we add to the big picture – a global, thriving manufacturing environment. And that is what control system integrators love to do!