Risk Assessment & Mitigation in Project Management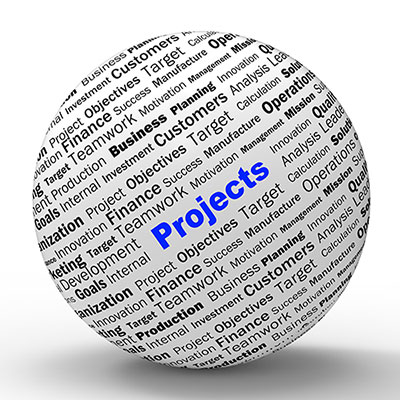 It's that time again—looking at our practices to find areas for improvement. Today's subject is project management: risk assessment and mitigation. Risk is a big deal here at Optimation. We are managing not only our own risk, but also that of our partners, suppliers, and clients. It's a form of stewardship, that is, caring for the well-being of assets entrusted to us. Very often our clients hire us explicitly to help manage their project risk. This can come in the form of scope, schedule, or budget dimensions, each of which poses its own unique challenges to a client's ability to achieve their goals when undertaking capital projects.
As we work through various experiences and perspectives, we can identify several common themes worth sharing here.
Cost is often the first risk and challenge that comes to mind, especially when talking about outsourcing projects to a firm such as Optimation. It's easy to track and report on, and gains the most traction and attention in many cases, especially prior to awarding a contract. We will deal with Cost first with the caveat that it's only one of the primary three that we will talk about here.
One of the reasons cost rises to the top is that very often expectations end up being out of alignment with the way projects get executed. This is often a function of inexperience in particular aspects of the planning and execution, so owners sometimes include extreme contingency or drastically undershoot. So often, especially in the commercial world, dollars are the most often obvious metric and most readily quantifiable. To most people it offers a "black and white" summary of performance.
Right up there with Cost, and sometimes even superseding it, is Schedule. Being able to execute plans to a schedule is quite often the best long-term success indicator. That is, while budgets certainly matter and the capital invested in a project can be hugely significant, being late on a project may have a far greater impact on the long-term success and viability of a project and the business itself. Being late to market, missing contractual obligations, and failing to deliver on time often have far-reaching consequences with real financial and other impacts beyond what an overrun on the initial capital outlay may produce.
Taken together with the upfront cost it is a significant factor in calculating risk. By having the proper schedule risk mitigation plans, successful project managers anticipate and prepare for slips, delays, partial shipments, and more. Importantly, good project stewardship entails collaboration and coordination with suppliers, an understanding of the compliance and regulatory aspects of projects that can often slow down or halt progress, and more. It's not just tracking a Gantt chart; successful risk management around delivery really is about growing an almost organic, living and breathing entity from nothing to something successful.
The critical third leg in the project management risk stool is Technology. Managing technology domains where the parties know their experience limitations, and the tools necessary to deal with the application in the program, are also major factors in successful project planning. When technologies are in play that are designated as risk factors to success, such as using new equipment that is unproven to the practitioners or to the process itself, can be major challenges to the program. Likewise, any kind of invention that has to take place as part of a plan and program is a huge risk to success. It may cost significantly more than hoped and take longer to develop, thereby adding to the earlier-mentioned risk factors of cost and schedule. Whenever possible, avoid technologies that require invention in a project that is sensitive to finances and delivery schedule.
Beyond these initial three, another couple of factors to consider according to our worldly project managers, includes proper management of resources, especially utilizing their availability and the proper matching of the right levels of resources for the scope of the work at the right time. Additionally, vendor management can be a risk factor which is often overlooked when using unknown or new vendors or who are unfamiliar with any of the parties or haven't proven themselves in the past.
What are the answers, or at least the paths, to managing effectively most of these risk factors? Communication is one. "Early and often," say our project managers. Communication amongst the team members and with all stakeholders is essential. Clearly broadcasting progress, and continually updating the risk management matrix will not only build confidence but also reinforce commitments and help plan for mitigation.
Finally: think also about contract structure. Your project might go forward on a "fixed-bid" basis where very often clients attempt to transfer perceived high risk to vendors who will deliver to a predetermined budget and schedule according to the client's specification. Alternatively, the project might be run on a "time and materials" basis. These contracts often encourage increased transparency and offer a tremendous way to build trust in the relationship between client and project team. It also reduces a tendency for some to want to add excess contingency that does not benefit the client or the project, but serve to cushion the project team. Another way to go? Reduce and manage the unknowns together between client and project team through clear specifications and as much transparency and communication as possible.
For more information on project management the Optimation way, contact us here. You can also visit various project management websites for more information, such as the Project Management Institute.