Providing Engineering Services Remotely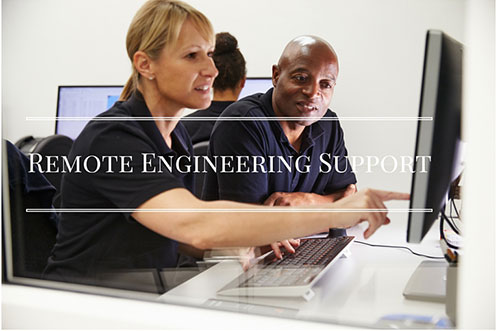 In my last blog I talked about the Engineering Services Contract. These are a great way to streamline and expedite the process of requesting and approving engineering service work. Another way to economically provide engineering services is by performing them remotely.
We have employees located throughout the country to better service our customers, but it seems like often we receive requests that are somewhere that we are not. We also have some customers with plants or sites in multiple locations that may use or run similar processes. With today's technologies, it is not always necessary to be physically on site to monitor, troubleshoot, or make changes to our customers' processes.
Let's talk about this from a controls and software perspective…When a customer has an issue with their process, they will call us for help. We make every attempt to try and help them solve their problem over the phone. We ask questions to try to pinpoint what could be wrong, and in many cases we can talk the customer through how to fix it. The degree of interaction can progress up through several levels based on the complexity or severity of the situation. We can use simple communication tools such as Face Time, Skype, WebEx, or other web based sharing tools to be able to "see" the process to help determine the problem and come up with a solution.
There are also many more sophisticated or secure ways of granting access and making changes. There can be remote connections that run through a Virtual Private Network (VPN) or other web-based applications. Some companies will have secure connection devices such as dongles or electronic keys to allow access to their processes. There are many of these web-based sharing tools that we use with our customers. Some of these include TeamViewer, RealVNC, TightVNC, PCAnyware, Dameware, and Windows Remote Desktop. Each of these has their own set of pros and cons but all are tools that can be used to share screens so our engineers are able to see what is happening in our customers' processes. We can perform tasks such as resetting passwords, software updates, recipe changes, or other programming or process changes.
With many of these tools the customer is able to "grant control" to us and we are able to make the required changes from our office or wherever our engineer might be connected from. This can all be done remotely without having to add the time or cost for traveling to the customer's site. This saves our customers money and saves wear and tear on our engineers. I can remember having to haul home a desktop computer and monitor and connect through a dial-up modem to make batch changes when I was on weekend team. Now these things can be accomplished on a laptop, tablet, iPad, or even a smartphone!
The best of both worlds is to have an established engineering services agreement and have the ability to connect to the customer's processes remotely. There is never a true replacement for a face-to-face discussion or seeing something first hand. In any ongoing engineering services relationship, the engineer should be visiting the client site periodically and meeting with their customers. BUT in the case of an emergency or even routine maintenance or troubleshooting it's great to have the ability to act quickly through a secure remote connection.