Networking – no wires required…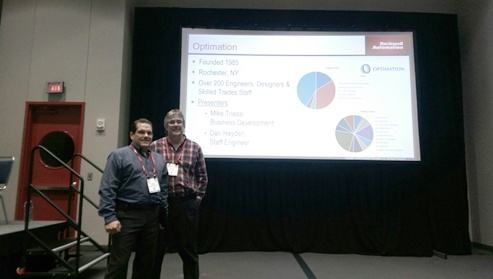 Today's process industry is comprised of many intelligent control systems, connected via some wired or wireless network to allow process information to be viewed and controlled by an operator interface. Earlier this month, Optimation participated in a Process Solutions User Group put on by Rockwell Automation located in Houston Texas. This event consisted of over 1000 colleagues and software and equipment experts, who joined together for this event to discuss where they are going with new products, and solicit feedback from users regarding successes and challenges faced in current releases.
We were also solicited to present a case study which highlighted the use of Rockwell Technology in a real world success story. Our presentation focused on how we implemented Sequence Manager in a batch process, but also included highlights of how we did the install, programming and commissioning of a new manufacturing facility. This was a medium-size manufacturing facility that we controlled with three Rockwell L7 Processors and used PlantPAx in a virtualized environment. Our trades group was responsible for the installation of all the process piping, platforms and all electrical controls. Our UL listed panel shop also fabricated and pre-wired motor control panels, remote IO panels and the field mounted HMI station.
During the two-day event, in between sessions, and during breaks or after-hours events was a great way to take the opportunity to network with people in our industry and discuss what expertise they had. This networking is the old-fashioned kind; not 100Megabit or 1 Gigabit, but face-to-face networking.
This is not unique to our business, but this is an important tool to open doors or to get technical answers from colleagues who share similar experiences to your own. Networking; definitely still an important business tool which consists of face to face time with peers. The art of conversation is a tool we need to keep in our toolbox, and to encourage young engineers to carry on. Networking is really just a buzzword for communicating about common interests/goals, and making introductions to people with similar goals. This always opens up opportunities so sales can be made.
Brainstorming with a technical developer of the Rockwell FTBatch product.

From the days of the big ISA shows back in the early 90s put on by Bailey, Yokogawa, Foxboro and others, to the more recent technical shows that we were fortunate to attend put on by Rockwell, there is no substitute to a face-to-face meeting to open a door to future opportunities.