It's Time To Be Paranoid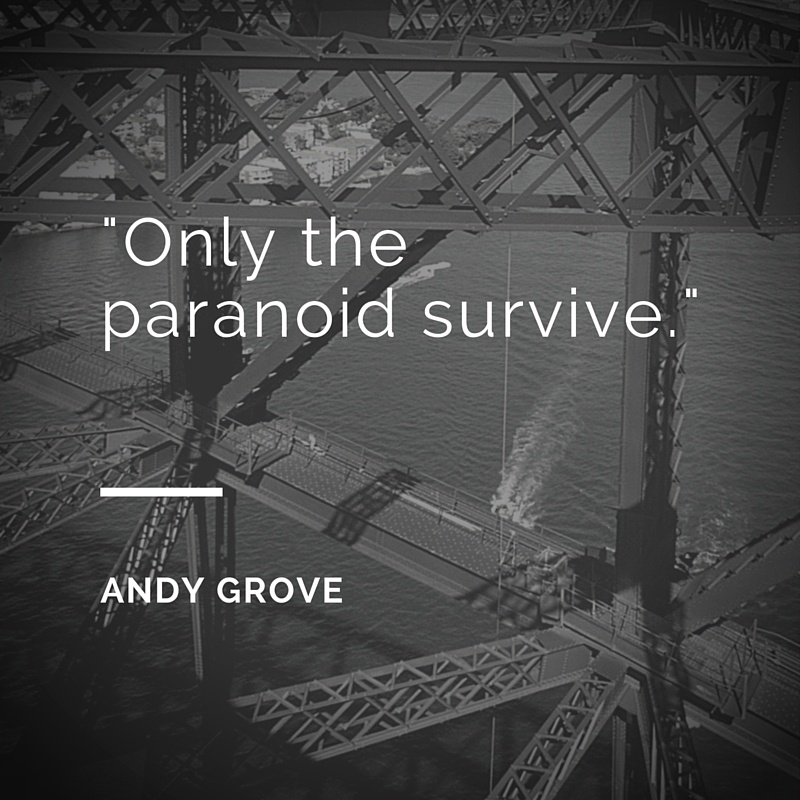 Twenty years ago Andy Grove, then CEO of Intel, wrote a bestselling book on business, "Only the Paranoid Survive." In the book, Grove talks about inflection points that can cause changes that will impact the direction of the business and require a change in strategy to survive. These changes can come from inside or outside of the company. When facing changes, Grove says that if the company makes the wrong choices it will die. But he adds that, "most companies don't die because they are wrong; most die because they don't commit themselves. They fritter away their valuable resources while attempting to make a decision." The greatest danger, he says, is to do nothing. We can all think of companies that failed to change in time and were forced into failure. Buggy whip manufacturers come to mind immediately. But in more recent times we can think of manufacturers of print film, or instant film products who didn't adapt to digital technology soon enough.
Many companies are facing inflection points in 2016. There are large changes in the world economy influenced by the rapid drop in oil prices. Companies all over the world are doing their best to adjust when they can to the inflection points caused by these changes. Some will be successful and others will go, or have already gone, out of business. Fracking companies have little new opportunities in the near term. Oil producers in low volume or high sulfur oil can no longer produce product at a marketable price. But other companies are able to take advantage of the change. Plastic manufacturers suddenly have a more competitive product because of lower raw material costs. Companies able to clean frack water generated by operating wells have higher volumes of water to recover, since there is no longer a demand for its use to develop new wells.
Andy Grove said "a strategic inflection point is a time in the life of business when it will change. That change can mean an opportunity to rise to new height but it may just as easily signal the beginning of the end." At Optimation, until recently, one third of our revenue came from oil and gas. Clearly it is necessary for us to make strategic changes in our client base. We've addressed the need, engaged our sales force and are building a new subset to our client base.
Some companies, such as Optimation, have an opportunity to adjust our client base to adapt to the changes. Our challenge is to find manufacturers who have and are adjusting well to their own inflection points, who have capital to spend in growing their manufacturing firms, and who recognize the need for new talented and cost effective suppliers such as Optimation. Our unique ability and our concept to completion approach for the design, fabrication, and installation of highly automated facilities makes us an ideal partner for helping expanding manufacturers get to market quickly with new products and processes. Oil is cheap. It's time to find new ways to take advantage of that fact. It's time to build more manufacturing plants and create more manufacturing jobs in the United States.