From Concept to Fabrication:  What are the Risks, and How are they Mitigated?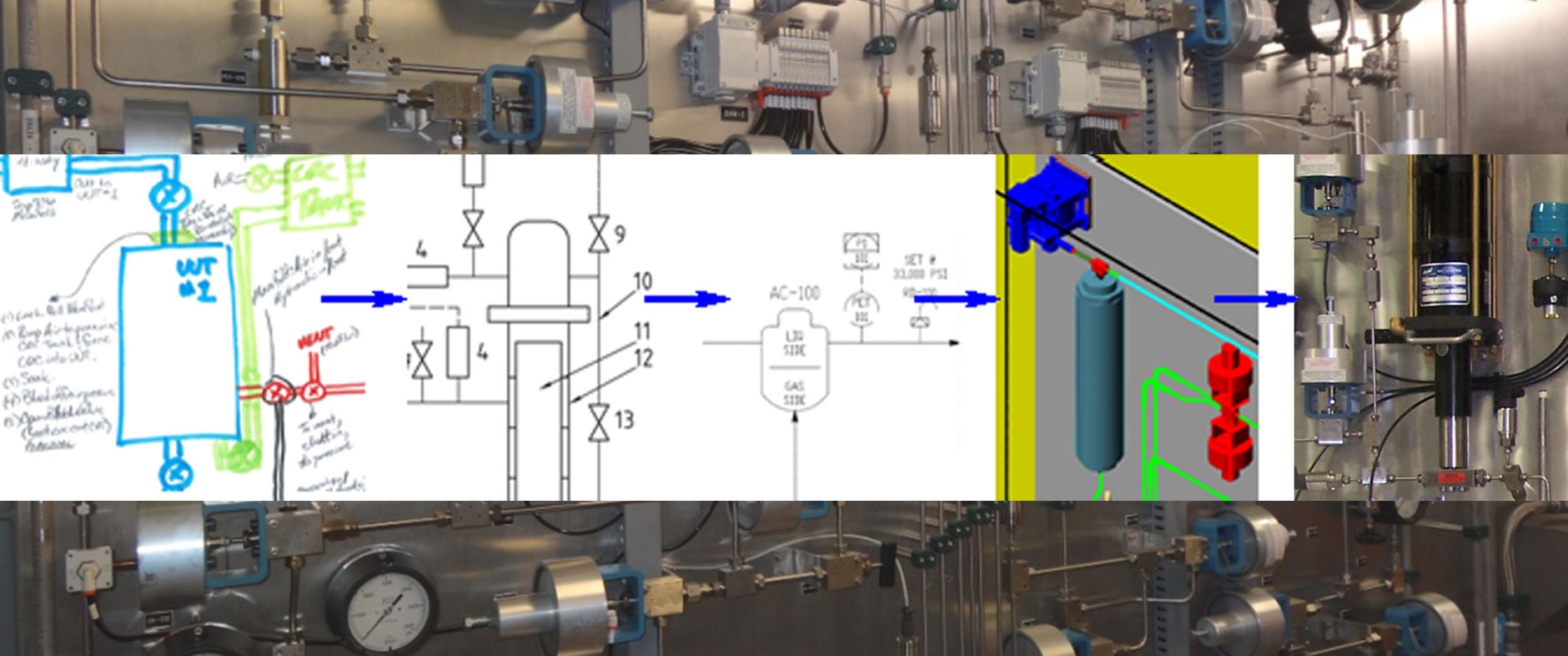 At Optimation, we describe our company in terms of our ability to provide turnkey solutions to the manufacturing segment. Our solutions and services can start early in the project process, as we are able to assist our clients in investigating a variety of technologies that might help them with their production challenge or problem. We generally receive a problem statement and some User Requirements from our contact at the client company. We respond to the customer's needs with a Concept Design phase, which includes performing a technology assessment. Our Media Conveyance Facility stands ready to offer Development Engineering and modeling to predict behavior for products that are built on flexible webs, for example. Once a preferred technology is selected, a manufacturing platform or machine configuration is generated that answers the client's User Requirements (the first steps of our Project Process). We then invite our client to participate in a Concept Design review to validate our work product so far.
At the conclusion of the Concept Design Review, we have an approved approach. But what about the risks inherent in a custom designed machine, or series of machines, targeted at interacting with the client's product in a specific way to achieve a particular value add or manufacturing goal? What if the machine configuration, including its automation, is unique or first of a kind? Can we trust that a machine derived from this fresh concept will be robust and reliable enough to provide steady production with high yields, right out of the box? How do we deal with this risk?
Where appropriate, we recommend that the client next perform a Proof of Principle phase, where the targeted modules which embody the untried mechanization are mocked up and tested for performance and possible enhancement prior to completing the design/build of the production equipment. The most obvious reason to execute this phase is to verify that the basic operation of the machine as conceived is functional. However, this step offers several other benefits beyond its main objective of mitigating project risk.
When a new production machine is derived, it is typically an amalgamation of movements and applied assembly activities. The engineering will include generating designs that apply appropriate forces, move the product at needed speeds and distances, and execute assembly tasks to achieve the end product construct. Sometimes the automation that comes together to operate on the product is straightforward and its reduction to practice well understood and predictable. There are other times that the particular machine configuration and its interaction with the product are not at all understood, and in these cases, building a mock-up that can perform the new process steps enables the project team to deal with the machine performance uncertainty.
A Proof of Principle mock-up is designed to accomplish several things. First and foremost, as we noted above, it is intended to demonstrate that the basic production or assembly methodology works, and delivers the intended outcome. Since a Proof of Principle machine is not intended to be used in production, it can be an abbreviated module of only those functions that are judged to be high risk. This allows our customer to minimize his cost outlay for maximum effect. Once built, the mock up can also be a vehicle to assess other machine attributes beyond basic functionality. The Proof of Principle machine can serve to be a platform for a Process Safety Review. It can enable a first pass Operator Training exercise, and help the team produce SOPs and CAGs. It can help the client's own technical staff determine maintenance procedures. Another benefit that can be derived from the mock up is performing more extended runs and applying Statistical Quality Control to help predict robustness and process capability of the design. This will help guarantee baseline performance of the production version. Finally, by exercising and analyzing the Proof of Principle machine, significant improvements of the design can be derived, to be included in the production version, that will help deliver a more attractive Return on Investment.
The Proof of Principle phase is an integral step in Optimation's Phases and Gates approach to how we approach and deliver capital projects. We promote this step for all of the benefits that can be derived, but we recommend it primarily because it helps both Optimation and the client identify, understand, and mitigate project risk…something that is highly valuable as our customers seek to maximize and ensure their return on investment.
{{cta('1b158249-9422-4e22-a525-0464792daa68')}}