Fabricating Obstacles for Hyperdrive
Photo Credit: Netflix
A few months ago, I wrote a blog about a really neat project that we were doing at Eastman Business Park, the old Kodak Park Campus in Rochester, NY. Netflix was going to film a series that would rival American Ninja Warrior only with high performance cars and expert drivers on challenging obstacle courses. It is dubbed "American Ninja Warrior meets the Fast and the Furious."
The Obstacles, or stages, each offer new challenges for the cars and drivers. Optimation was hired to fabricate and assemble many of these obstacles. I was able to see some of the work come together in person and it was very impressive, but when you film it at night with effects and lighting it becomes a whole different world!
Photo Credit: Eastman Business Park
I just watched the series on Netflix. I was amazed at the transformation! For Rochesterians, and particularly those who worked in Kodak Park, it is a beautiful site to see the buildings all lit up! It looks amazing!
There are drivers from all over the world including all over the United States, France, Germany, England, Poland, South Africa, Japan, Brazil, and more. They are driving everything from basically a stock 6-cylinder mustang, to a Lamborghini, BMWs, Mercedes, Mazdas, Nissans, and some classic American muscle cars like Camaros, Firebirds, Mustangs, and even a Dodge Charger. Horsepower ranges from 280 to 1200 and these drivers each have their cars tuned to the way they drive. There is drifting, speed, precision, and of course a lot of adrenaline.
I watched 28 drivers attempt four courses with different obstacles in the qualifiers, and then the top 12 went to knock out rounds. They ultimately ended up with the top 6 drivers going to the finals. At each stage they added new obstacles and made the existing obstacles more difficult.
One of the centerpieces is an obstacle called the leveler. It is like a giant teeter-totter or a floating bridge. The drivers need to power up a 6-story incline and stop close to the edge and wait for the weight of their car to redistribute and tilt the incline the other way. They had a time limit to try and hold their car on the leveler in a "balance zone" that they needed to stay within for 10 seconds, if they accomplished this challenge the leveler released and they could move on to the next obstacle, If they could not hold their car in the balance zone for 10 seconds, within the time limit, they would be released from the leveler, but had to take a time penalty. Optimation fabricated this obstacle. It was impressive to see in person, but it is transformed on the television screen!
Photo Credit: Netflix
The Gauntlet was another obstacle that Optimation fabricated. It was a large frame with three actual cars suspended from it. The cars were swinging side to side with targets on them and the drivers had to hit the targets with their car as they drove through the gauntlet while staying within the designated path. Once again, filming at night and illuminating this in lights it took on a whole new perspective!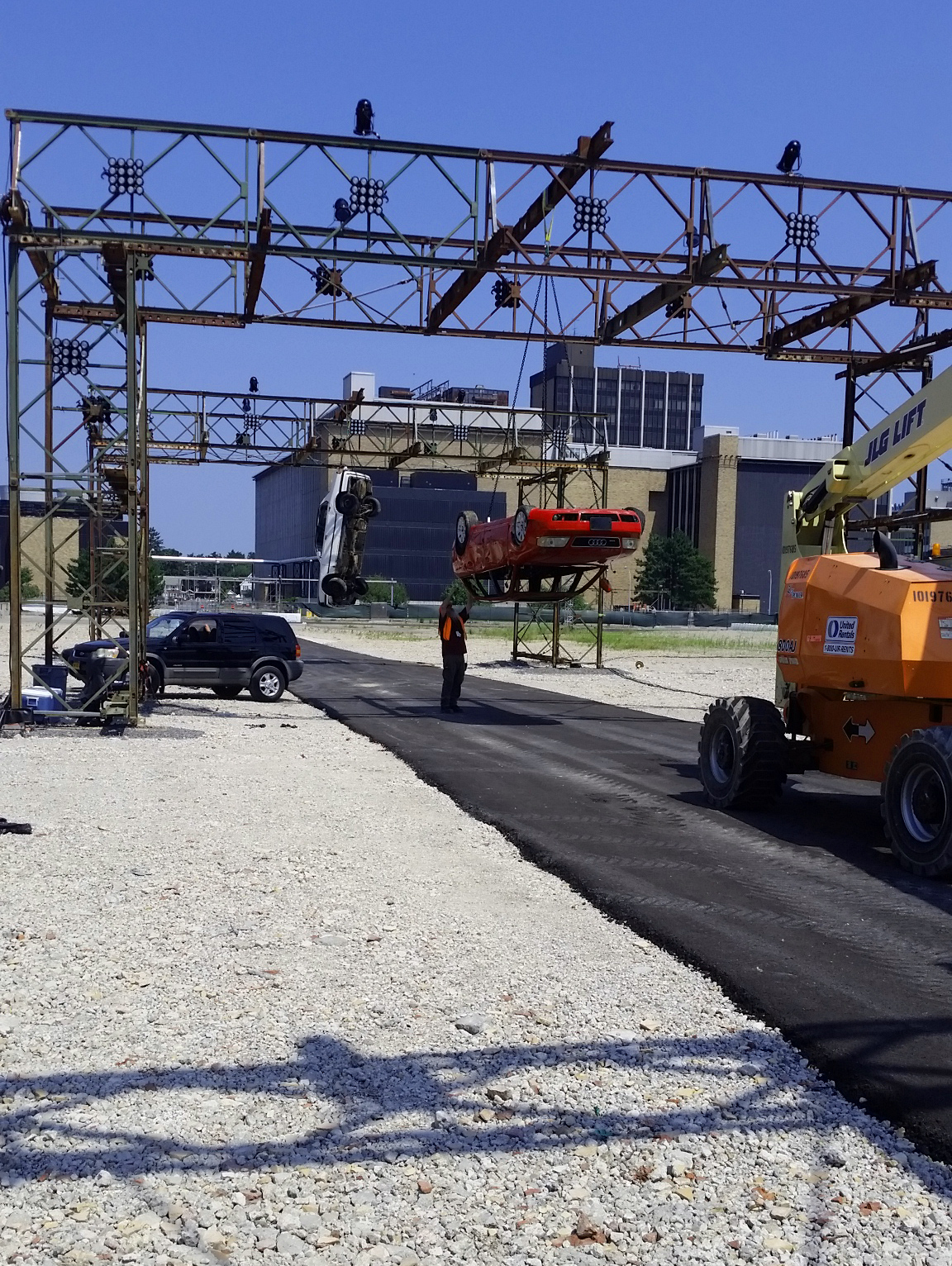 There were several obstacles that involved precision driving, drifting, and of course speed and some good old-fashioned head to head racing (with some obstacles of course)! There were also water obstacles, where cars needed to drive through water, over water, and were racing against time before giant water cannons dumped thousands of gallons of water on them. One of these cannons dramatically broke the windshield of one of the cars.
These drivers pushed their cars to the limit. A few of the cars broke suspensions, there was significant body damage on some of the cars from hitting the obstacles or even barricades or brick walls, and some killed their engines. In the end, four of the six drivers in the finale made it to the finish line. I won't spoil it and tell you who won!
It was awesome to see Optimation's work on the TV screen and know that we were a part of this.