Energy Consumption and LED Lighting
In many ways automation is predicated on improving quality, consistency and efficiency. As process engineers, efficiency is a fundamental aspect of designing systems. It is probably true that efficiency of time, labor, or raw materials has had more priority than energy in our professional lives. While production cost is important, a national goal for less dependency on foreign oil and a global initiative to reduce our impact on the environment should drive our personal choices as it pertains to energy consumption.
A few years ago, as Optimation began working with biofuel and renewable companies, I spent some time reviewing our energy profile as a nation. The US Energy Information Administration has a very informative article that I read in 2012. And while it points to a trend toward reduced energy per capita, I was more struck by the resources used to meet our energy demand.
A couple of other charts helped show how energy was being used with respect to sector and application.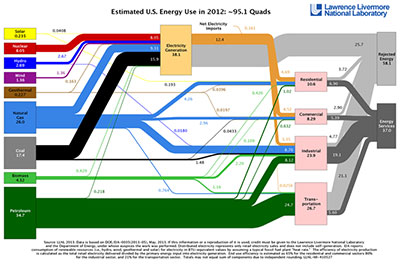 Sector Name

Description

Industrial

Facilities and equipment used for producing and processing goods.

22% chemical production

16% petroleum refining

14% metal smelting/refining

Transportation

Vehicles which transport people/goods on ground, air, or water.

61% gasoline fuel

21% diesel fuel

12% aviation

Residential

Living quarters for private households.

32% space heating

13% water heating

12% lighting

11% air conditioning

8% refrigeration

5% electronics

5% wet-clean (mostly clothes dryers)

Commercial

Service-providing facilities and equipment (businesses, government, other institutions).

25% lighting

13% heating

11% cooling

6% refrigeration

6% water heating

6% ventilation

6% electronics
From <https://en.wikipedia.org/wiki/Energy_in_the_United_States>
The next graph I saw at that time was one comparing per capita energy usage by country. I was a bit embarrassed by how seemingly excessive we were in our energy usage. But also concerned that others are headed in the same direction.
So I came away with the general feeling the best way that an individual could help move the needle was in selecting higher efficiency vehicles (transportation is 26.7% of total power consumption) and more efficient lighting (12% of residential power consumption and 25% of commercial power consumption).
Focusing on lighting … LED lighting is now entering the "disruptive technology" category. Its ability to make a meaningful impact on energy usage is staggering. Taking a look at the lumens per watt of lighting technology it is clear that LED has a clear advantage. A 60-watt incandescent bulb generates 860 lumens. The compact fluorescent equivalent uses only 15 watts and LED uses 6.5 watts. Cutting energy usage by 90% from old incandescent technology or over 50% from relatively recent compact fluorescent technology is a compelling reason to make the change.
Earlier in the year, Optimation converted all of the Rush office lighting to LED under a program where the cost of the change was amortized into the electric bill over a one-year period. Estimating a 60% savings in energy, there was a nominal increase for 12 payments and then a lifetime of reduced cost.
Last weekend, I spent about $150 to change all my home lights to LED lighting. The price of LED lighting is at $2.50 to $5.00 per bulb depending on the type. In my case I had put in compact fluorescent many years ago. If all the home lights in the US made this shift it would have at least a 6% reduction of 10% of the total US consumption. That is about 0.5 percent of 95.1 quads (or 150 billion KW-hr). One thing that I did was to use soft light. We felt that the daylight color was just too harsh. As a bonus the LED lighting is dimmable. Now that the price has come down and the color is pleasing there seems very little reason not to go out and make a change to help save energy. And after we all get our electric bills after this holiday season is over, we may be even more motivated to do so!