Emergency Skilled Trades Services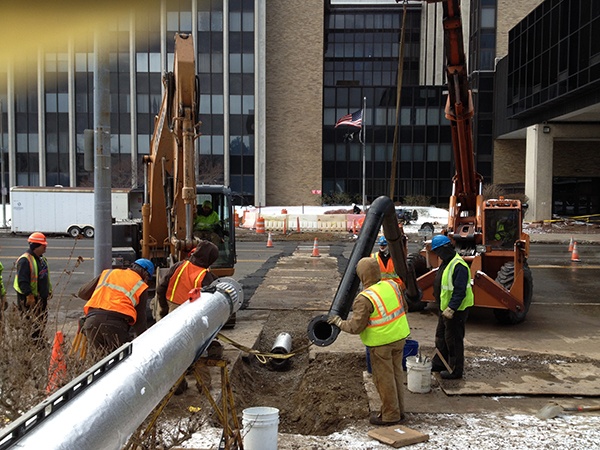 Much of what we do at Optimation is for planned projects, with engineering and design, planned shutdowns, and a defined project schedule. But there are also times when all of that goes out the window and clients experience an emergency that requires quick thinking and a swift solution. Here's one of my favorite examples where our skilled trades services were able to do just that.
RED-Rochester, the company that owns and operates the utility infrastructure in Eastman Business Park (EBP), called Optimation with an emergency in the dead of winter. The park's main 12" steam line ruptured underneath Lake Avenue. This particular line fed a research facility named Truesense Imaging – now a part of ON Semiconductor. This steam leak did shut down their Truesense operations, as it was used for both process and heating. In January in Rochester, heat is essential, not only for employee's comfort and process but to keep the Fire Sprinkler Main's from rupturing. For RED and Truesense, it would have been a catastrophe to not act quickly.
RED was looking for input on how Optimation could help. The two companies had an established relationship, as Optimation regularly worked on projects for RED in EBP. RED's main concern was how to work in a congested highway. RED-Rochester's plan was to call a company in from New York City with experience with working in high traffic areas. The proposed fix was to hang temporary Steam hose off of the overhead Kodak Cafeteria bridge that spans over top of Lake Avenue to temporarily get operations back up and running without disrupting traffic. This temporary fix would stay in operations until a permanent fix was made.
Optimation Industrial Services' Operations Manager, Jack Burke met with RED representatives to brainstorm how to approach the project differently. After hearing the initial plan, he asserted that waiting for a company to travel up from NYC was unnecessary. Burke figured the temporary fix could be completed quicker using resources from Optimation, CP Ward and an insulation contractor.
Over the course of the that weekend, CP Ward and Optimation worked together in tandem to complete the temporary repair. CP Ward proceeded to saw cut and excavate a trench in the existing asphalt roadway across Lake Ave. While CP Ward worked on the trench, Optimation started fabrication of 8" piping spool sections with flanges and pre-insulated the steam piping, which would be lay in the temporary trench. CP Ward then covered the open trench with road plate. The goal was to get Truesense Imaging up and running as quickly as possible, causing minimal disruption to traffic.
This process of excavating, digging down to the 12" steam line to make tie-ins on both sides of Lake Avenue, prefabbing our temporary steam main, and tying in Optimation's 8" temporary line into the 12" concurrently got the project done quickly. After receiving the phone call Thursday morning, by that Sunday at 1 pm, Truesense was back up and running.
This was also a true example of partnering with local contractors to provide the best solution for the client. CP Ward was contracted for the excavation and took care of road closures and road plates. Optimation provided the riggers, pipefitters and welding, to fabricate, install and tie in the temporary pipeline.
While installing the temporary fix, RED realized it was essential to move the steam, condensate and air utilities out from under Lake Avenue, and so they worked with Optimation for the engineering, design, fabrication and installation of rerouting these utilities from underneath Lake Ave to up above and across the Kodak Cafeteria bridge.
{{cta('b8929877-9e3b-4457-a286-7e8a06829b00')}}