Celebrating Safety: A Manufacturing Imperative
As manufacturers strive for a zero-incident workplace, they fight with realities like the 2nd law of thermodynamics. This law essentially says that entropy exists in nature and the natural course of entropy is the tendency of systems to go towards disorder. What that means for all human activity – be it manufacturing or making an omelet – is that we must exert quality energy to combat this natural law. We at Optimation take this very seriously and we know that when we reach a benchmark, we must celebrate with setting even higher ones.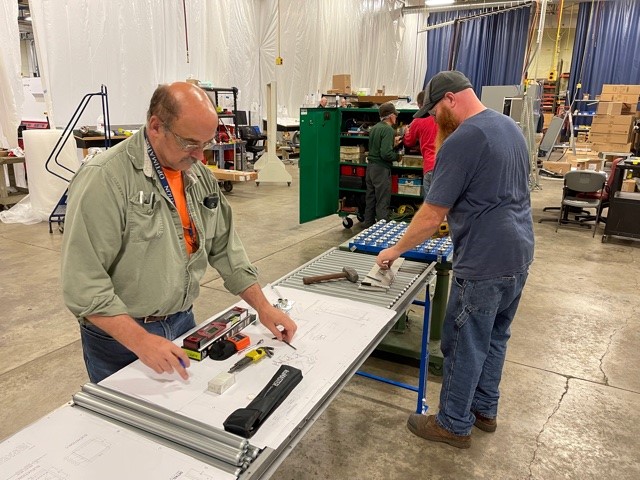 Optimation has had 250 days without a lost time injury! This is significant in the fact that one of our goals for the last year was to cut LTIs in half. So far, we have worked to erase them all together as a team. Other recordable and non-recordable workplace injuries are down too with only one recordable injury for 198,000 labor hours. This is significant since over this time Optimation has been involved with many complex projects exposing us to many hazards.
We are so grateful to all our Optimation family for the unceasing commitment to safety so that we keep each other protected.
Here is the why and the how of what we've done to achieve our benchmarks.
WHY: The top 3 reasons that safety is of great importance for all businesses:
Workplace injuries are very costly. They harm a company's bottom line both direct and indirect which impacts everything a company spends money on.

Reputation is big in business. If you are a workplace that has constant injuries, lawsuits, and OSHA violations, you will have trouble recruiting and retaining quality workers at all levels. If you are a service-based industry, you will have issues attracting and maintaining client relationships.

Ethical and moral responsibility. Humans are not just capital. We need to protect people at work. Everyone has the right to a safe workplace in the United States. That being said, both the employer, and the employee have responsibilities in maintaining a hazard free workplace.
HOW: Top 5 actions Optimation has taken to increase safety on the job:
Safety leadership training to middle management/job supervisors (leaders on the ground). They are the backbone of the company and have the most immediate return when training on safety intervention.

Safety leadership training to apprentices – this shows focus towards our newest teammates and gives them an idea of what our safety culture is and where we want it to be.

Provided OSHA 30 Hr Construction Safety and Health training to project managers and supervisors. This training is not a supplement for required training, however, it provides a base from which to build. It also discusses the "why" behind safety rules and regulations.

Reduced documentation and paperwork burden for in-field groups – gave more discretion and authority to supervisors for toolbox talks, safety inspections, and behavioral based safety observations. In other words, we increased our training and supervision bubbles, to allow us to decrease our written procedure and documentation bubble. This makes safety more attractive to in-field work crews by helping to integrate it into everyday tasks and reducing burdensome paperwork that was found to have no direct impact on safety performance.

Leadership spent more time out in the field, not just to inspect for hazards or deficiencies, but to get to know everyone and determine their level of commitment to our safety program. This concept of leadership is called "know your people". If someone has something going on in their lives like a death of a family member, or financial troubles, they may not be the best person to supervise a confined space entry into a chemical tank, or set up a fall protection anchor on a rooftop nine stories up. It is important for leadership to know and understand not just safety standards and checklists, but what is going on between their subordinate's ears.
Safety is good business.
Safety is being a good coworker.
Safety is being a good human.
If we can summarize our most recent efforts to always be better people and a better company, it might be best said in the following:
Train Smart. Make safety easier to accomplish. Know and support your people fully.
What are you doing at your workplace to train, simplify, and support towards increased safety success?