Boston, The BAA and Lessons We Can Learn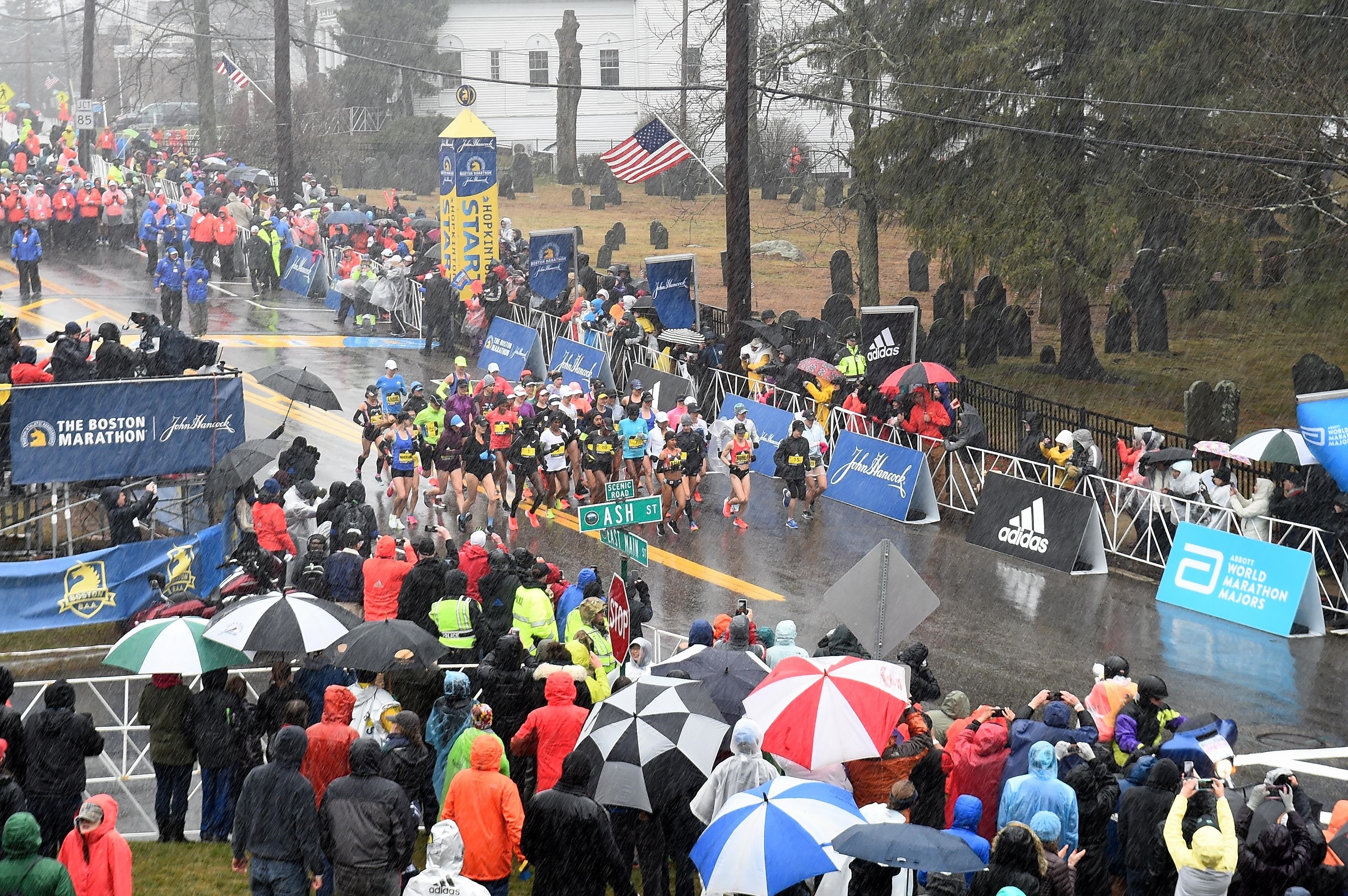 Monday April 16, 2018 was Patriots Day in Boston. The weather was abysmal; 37 degrees, pouring rain, headwinds of up to 20 miles per hour. It was the worst weather ever for a Boston Marathon. But the BAA and Bostonians were determined to make it one of the best marathons ever. I arrived in Hopkinton on a school bus like twenty thousand other runners. By the time we got there the field was already standing mud. We squeezed into a large tent along with thousands of others. Inside volunteers were doing what little they could to make runners comfortable. They gave us a sheet of Mylar to sit on and some energy gels. We weren't out of the rain long before it was time for the 45-minute walk to the starting corrals and the run to downtown Boston.
I was in no hurry that day. My goal was to finish the run before they shut down the course. So, I had plenty of time to observe and admire everything happening. I had time to be totally amazed with what I saw as I sloshed through the rain from Hopkinton toward Boylston Street. I thought about the city, the Boston Athletic Association, their volunteers and the spectators. I was wet, and it was cold, but everyone around me was too.
I had seen some looks of concern on the faces of runners, but for the most part there were smiles and optimism. And all around me the smiles on the faces of the volunteers and the cheers from the crowds were enough to help us ignore conditions. How was it, that 25,000 runners were willing to slop through these conditions and keep on going? What made this day and this event so special that very few wanted to miss it, no matter what? Why were the volunteers there, and why were they smiling and high fiving? Why did hundreds of thousands of spectators come out in that weather to stand in the wind and rain and scream and cheer hour after hour?
Four things came to mind. We can all learn something for ourselves and for our organizations from what I saw happening in Boston at the marathon.
They strive for a quality product. The BAA and Boston have created an amazing event, and established themselves as the premier marathon anywhere. There are over a thousand marathons held each year in the United States. Most of them advertise that they are Boston Qualifiers. They do this because they know it will increase the participation in their own event. Over half a million runners complete one of these marathons each year. About six percent of those running other marathons make it to the Boston Marathon. I have often overheard runners at other marathons strategizing about how to get a BQ (Boston Qualifier). Why all the focus on Boston? Because they are the best. We need to focus our own organization on quality as well. It should always be our goal to the best at what we do.
They never stop looking for ways to improve. 2018 was the 122nd running of the Boston Marathon. They have a huge legacy, but they never rest on their history or laurels. The BAA, Boston and all the towns along the way learn from every incident, every year, and continue to raise the bar and improve the event. They learned from the bombing in 2013, they learned from the heat, they will learn from the rain and cold we had in 2018. They continually improve the experience while at the same time increasing security for everyone. If any of us, or any organization we are part of, want to learn about organizational quality we should look to the BAA and Boston and learn from them. Any good quality system, like those registered to the international ISO 9001 system, know that you never actually reach your quality goal. Continuous improvement is a necessary part of excellence. We need to practice it in the same way they do in Boston.
They build the best team possible. The BAA has a very strong team of volunteers who participate and make the event the success that it is. These volunteers believe in what they are doing and take ownership in it. It takes nine and a half thousand volunteers to put on the race. Volunteers compete to be part of that team. The BAA turns away between one and two thousand people who want to volunteer every year. And seniority counts in the selection process. Many have served for decades. The BAA looks for experience and quality when building their team. This is in strong contrast to most other marathons where we often see social media posts just weeks or days before event saying that more volunteers are desperately needed. In Boston the volunteers want to be part of the team and the event. When we select our employee teams we need to build teams with the same lever of energy and commitment. We want employees who are there for more than just their paycheck. In Boston we know this is true.
They support the spectators and leverage their energy. I watched the spectators in amazement last Monday. This was my seventh Boston Marathon and I have always been impressed by the crowds and their participation. Patriots Day is a holiday in Massachusetts, but even those who don't get a paid day off go watch and cheer. In a normal year, up to a million spectators may show up. Some are there to support family and friends, but most are there to support runners they don't know. And the rain and cold and wind did nothing to change that. The crowds were still large and engaged.
At times, they were very loud. One of the loudest parts of the course is through Wellesley College, a screaming tunnel. But that is surpassed by the crowd near the finish and along Boylston to the finish line. I turned the corner to Boylston six hours after the marathon started. And there they were, still there in the rain and the wind and the cold, still shouting at decibels that didn't allow you to think. Spectators offered every imaginable kind of help along the way. We didn't need the usual ice cubes or water spray this year. Instead there was a lady offering dry socks. There were signs saying, "I have Advil." There were people handing out oranges and twirlers and beer. There was Vaseline and Band-Aids. And there was every kind of cheer and encouragement.
As I walked up heartbreak hill at least half a dozen spectators made eye contact and said, "you've got this." They never gave up on me or any of the other runners. Their goal was to make sure we had the extra adrenaline needed to get to the finish. In our businesses we all have spectators. There are those we interact with who won't ever be our clients. They may be family, or friends, or professional acquaintances, former college classmates, or just others we've met on social media. In this very connected world these "spectators" of our business are important. They provide networking and connections and support and ideas we can and should use.
Rain and wind and cold can be intimidating to some, and motivating to others. Every challenge we face in our business lives should give us a reason to hunker down, adapt, improve, and become more successful.