An Essential Tool to Encourage Women in Manufacturing
This year, I spent Manufacturing Day by travelling to Chicago with Optimation VP of Engineering Wendy Smith, to support her as she was officially recognized as an Influential Woman in Manufacturing by Putnam Media along with 26 other women working in industry. The luncheon, awards ceremony and panel on supporting inclusive workplaces in manufacturing were all held at MxD, a digital manufacturing research and development facility that facilitates experimentation, simulation and training for emerging technologies.
I was proud to be there with Wendy, who has worked in manufacturing her entire career, starting as a melting engineer and holding manufacturing and operations leadership positions for Corning Incorporated before joining Optimation's leadership team. She got to where she is with lots of hard work and mentors like her parents and coworkers along the way in her career.
Yet sadly, Wendy and her co-honorees are in the minority in industry. Women are vastly underrepresented in U.S. manufacturing, which continues to struggle with a skills gap.
At the awards luncheon, the program's founders – Erin Hallstrom, Christine LaFave Grace, Alexis Gajewski and Amanda Del Buono – shared some poignant data points on women in industry:
According to data from the U.S. Bureau of Labor Statistics, women account for only 13% of the engineering workforce in the United States.
Only 26% of those working in computer science in the United States are women.
Women account for about one-third of the manufacturing workforce overall.
It's not news that manufacturing needs more women in skilled and professional positions such as the skilled trades, designing and drafting, engineering and development. But if we're going to close the gender gap in manufacturing, we also need to see more women in leadership positions.
When I first interviewed at Optimation back in 2007, I was thrilled to see women working in the corner offices. Three members of Optimation's leadership team were women. It was refreshing and made me feel more excited about the prospect of working there. I had worked for manufacturing companies while attending college, and while I did work with women, very few held leadership positions.
As a young woman trying to navigate who she wanted to be, I looked at people in my circles of influence. And when we spend most of our lives at work, our coworkers become a huge circle of influence. In those women, I saw what was possible for me. I saw that Bill Pollock welcomed women as equals, invited to sit around the table in his office and make vital decisions about the company.
Men play an important role in helping to mentor and advance women in manufacturing, but women in leadership positions in manufacturing can be incredibly powerful in making the change we need to see in industry.
In the words of the founders of Influential Women in Manufacturing,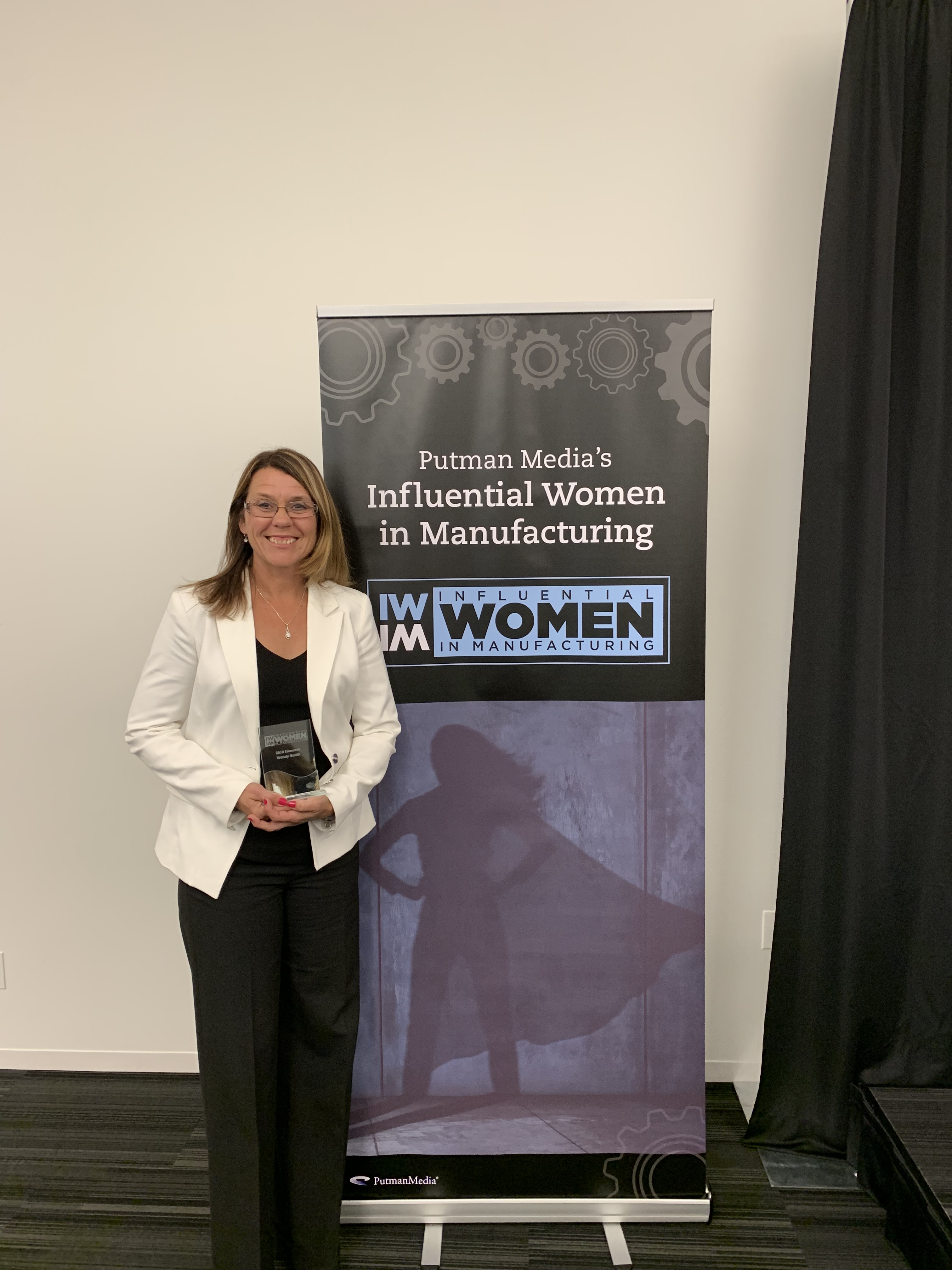 "There is power in visibility – power to inspire current and future colleagues; fellow innovators; and those in our workplaces, communities and personal networks who are watching even if we don't recognize it."
Change comes from encouraging young women and girls to consider careers in STEM, but also by encouraging and nurturing women working in manufacturing to lead. To become operations and plant managers and subject matter experts, engineering managers, vice presidents and presidents.
This can have a real impact on a company's profitability. According to a study by the Manufacturing Institute on women in manufacturing,
"When employees believe their organization is committed to inclusion, they report better business performance in terms of their ability to innovate. For example, companies in the MSCI World Index (a stock market index of 1,652 world stocks) with strong female leadership enjoyed both higher returns (average annual ROE of 10.1 percent versus 7.4 percent [as of September 9, 2015]) and superior average valuation (price to-book ratio of 1.76 versus 1.56) compared to companies without strong female leadership. Another analysis showed that an increase from no females in corporate leadership to 30 percent representation is associated with a 15 percent increase in net profitability."
Survey respondents in the study also said that having women on a manufacturing company's leadership team can help deliver diverse perspectives in decision making, innovative and creative approaches and solutions, balanced organizational management and improved financial performance.
Women in leadership are positioned to actively recruit qualified women for roles in manufacturing and help mentor and encourage growth for women in their companies. They can advocate for fair and equal pay. They can command respect and authority in an industry that is still very much male dominated. They can help reshape industry.
This doesn't discount men or their role in mentoring and encouraging women in manufacturing. I'm privileged to work with a number of men at Optimation who have been great mentors. But we need to keep seeing women in the corner offices. In the BIG office. Leading the toolbox talks, the daily operations meetings. Men can be a part of making that happen, by encouraging and believing in their female coworkers as leaders.
Influential Women in Manufacturing and other awards like it recognize women like Wendy who are already out there, rocking their jobs and influencing the next generation. The rest of the job belongs to us. How will you help your business encourage women to become leaders in manufacturing?